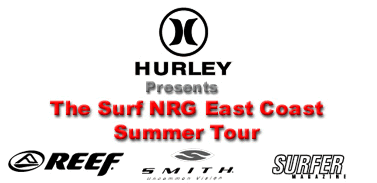 THE 8th Annual SURF NRG EAST COAST SUMMER TOUR 1999
featuring the Wide Screen Premiere of "NRG 2000", Surf NRG Video vol. #8


Featuring Live Performances by
"SUNCHILD w/ DONOVAN FRANKENREITER"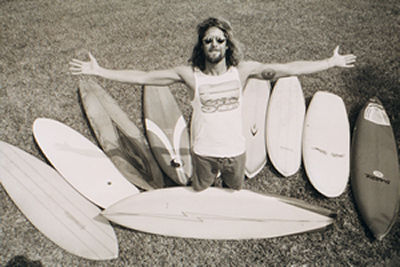 DONOVAN's Collection of Retro Surfboards that he acquired while traveling on the
SURF NRG EAST COAST SUMMER TOUR 1999
Tristan and Donovan Jammin' on the Surf NRG Tour
Knowing that he not only collects relic boards, he loves to ride them too.
Donovan on a 6'4" Lightning Bolt Classic that I gave him.
Photo shot at Mark Realty during the Hurricane Dennis swell.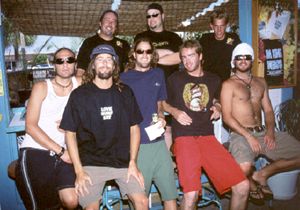 SUNCHILD from L to R are Tristan, Donovan, Jimmy, Matt and Scott.
Back Row Middle is Crimmy the Roadie with Scott and employee from DA KINE.
The Boys Taking a Lunch Break at DA KINE DIEGO's
after a surf session in Satellite Beach, Florida.
ORDER the Video NRG 2000, Surf NRG Vol. 8
Featuring Donovan's segment in PANAMA